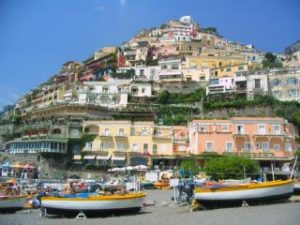 Visit districts
The visit to several neighborhoods of Positano, allows you to get to know the particular urban structure of the country of which date from the vertical stand terrain and the narrow streets of the fruit, in historical times, in an attempt to prevent acts of vandalism . The visit, which is enriched by the presence of churches in every neighborhood, from local craft stores. Almost everywhere you can stop for a break at one of the many bars and restaurants.
Mountain trails
You can go hiking along one of the many trails that dot the upper part of the country. It is possible, starting from the Chiesa Nuova reach S. Maria del Castello, where you can stop to eat and rest and from there through the path of the Gods or the path of the river enjoying nut back down to Positano, along the way, the beautiful scenery and the nature of the place.
Paths marine
An itinerary of the visit very interesting even if particular is what leads to the Marine Park of Punta Campanella. Divided into three different bands of protection offers the opportunity to visit both the coast dotted with ancient watchtowers that the seabed, with licensed vessels and diving tours. Inside the park there are several natural sites, archaeological sites, such as the Roman villa of Pollio Felice, patron of Virgil and Horace, and historical attractions, including the islands of Galli, where, according to legend, Ulysses met the Sirens.